Bob Hogan Memorial Endowment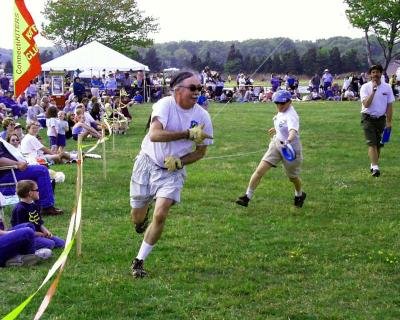 Bob (and Adena) competing as team Blue Planet at the Soundwinds Kite Festival (2001) in the rokakku battle.
The team beat out 17 others to win bragging rights. In a rokakku battle the object is to cut other
kites out of the sky.
A scholarship endowment in Bob Hogan's memory has been created at UMass Lowell. Once initiated, the endowment will generate an annual scholarship award for a worthy student.
$5,000 has already been donated towards the fund by Bob's longtime employer Fay, Spofford & Thorndike. A minimum of $5,000 more is needed as seed money to set up the fund. As of 2/24/06 we have $6,700. If we hit $10,000 by the end of 2006, the state will contribute $5,000 more!
Bob was a student, and later an instructor at UMass Lowell. He taught surveying in the night school for 17 years. Bob had many passions including kite flying, boomeranging, geocaching, technology, music, mountain biking, darts, cats and more. Bob was also a very practical man, one who wouldn't forget for a moment the importance of his education in his success. For that reason, remembering him via a scholarship seems most appropriate.
Donations to the fund can be sent to the below address. Checks should be made out to "UMass Lowell - Bob Hogan Endowment."
Mail to:
Brian W. Andriolo '95, '97
Associate Director of Development
University of Massachusetts Lowell
One University Avenue, Southwick 250
Lowell, MA 01854
Questions?
Brian W. Andriolo '95, '97
Associate Director of Development
Phone: 978.934.4809
Fax: 978.934.3040
Email: Brian_Andriolo@uml.edu
Feel free to share the URL of this page with others who might like to remember Bob.
Adena
adena(at)abs-cg.com